Nov 06, 2013
President Park Geun-hye
visited the British Parliament and talked with its members in the Royal Robing Room in the Palace of Westminster in London on November 5 during her three-day state visit to Britain.  Among the 100 members present at the meeting, from both the upper and lower houses, were Speaker of the House of Lords Baroness D'Souza, Speaker of the House of Commons John Bercow, Chairman of the Britain-Republic of Korea Parliamentary Group John Stanley and Foreign Affairs Committee Chairman Richard Ottaway.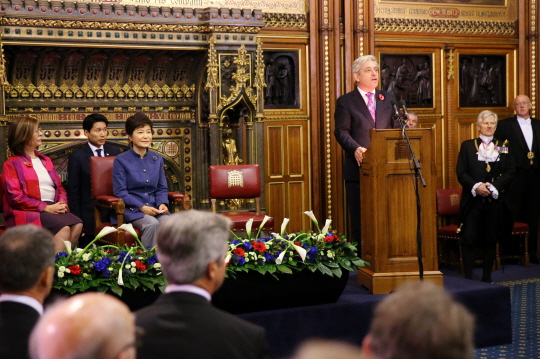 President Park said she is glad to visit the British Parliament, which she described as, "the cradle of parliamentary democracy," and which has led efforts to realize the universal values of humanity, such as freedom, democracy and human rights. The president also said she is happy to have a chance to talk to its members.
President Park said that earlier that day ground was broken for a Korean War (1950-1953) memorial which will, "serve as a lasting testament of a grateful nation to the noble sacrifice of young British soldiers who fought for freedom and democracy in the Korean War." She wanted to express heartfelt gratitude to the United Kingdom and to the British people for coming to Korea's aid.
Quoting the British proverb, "a smooth sea never made a skilled mariner," President Park said that could well apply to Korea. The president explained that Korea rose from war-torn ashes to become a contributor both to fighting poverty and to maintaining peace globally, and that Korea received strong support from Britain during the process.
President Park said the partnership between the two nations has been critical to the successful holding of the G20 Summit and the Cyberspace Conference, both of which serve the causes of peace, freedom and shared prosperity around the world. The president said the two countries will announce a joint statement on climate change as a way of cooperating with each other and to strengthen global governance.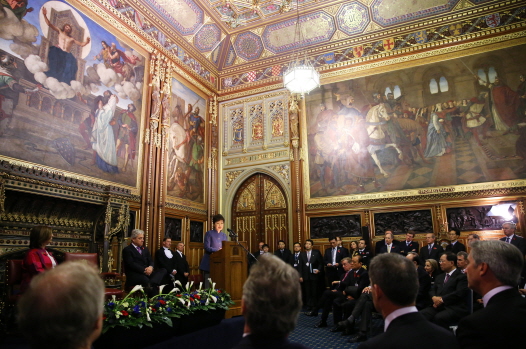 President Park also said Korea and Britain can become ideal partners in the quest for new engines of growth as Britain has made a great deal of achievements in science and technology ever since the Industrial Revolution and as Korea has high-quality human resources. The president suggested that the two countries cooperate in science, technology, industry and culture and continue to make efforts in international development cooperation and in promoting and protecting human rights so as to help people everywhere enjoy happiness throughout their lives.
President Park said North Korea must cast off its nuclear ambitions and uphold the fundamental rights of its people to become a responsible member of the global community. "We will be steadfast in pushing forward a trust-building process on the Korean Peninsula," said the president. "As we do so, we will make sure that even in inter-Korean relations, common sense and international norms can prevail."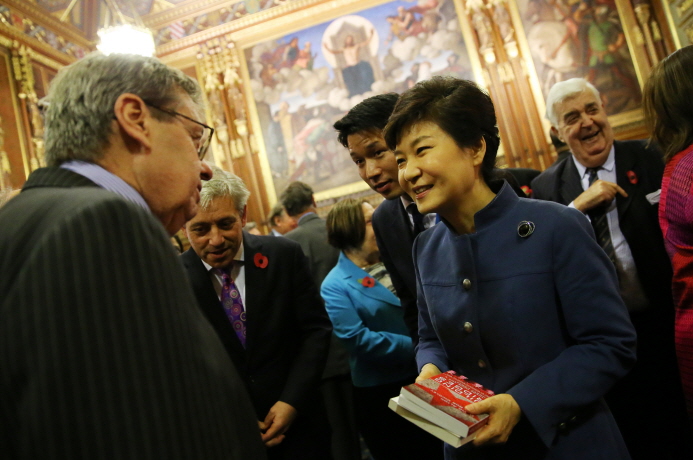 The members of parliament, including House of Lords Speaker D'Souza and House of Commons Speaker John Bercow, said that once in the past South Korea was a distant nation, since it was a remote country, but that now the nation is an important ally which shares fundamental values and has been cooperating with Britain very closely in nonproliferation, environmental protection and sustainable development. They also said South Korea accounts for a large portion of British trade and they hoped that they could further develop their relation as important regional and global partners.
They also hoped that President Park's visit would help the two countries cooperate in developing the creative industries and said that the British Parliament supports the South Korean government's Korean Peninsula trust-building process.