President Park Geun-hye met leaders of Britain's Labour Party and Liberal Democratic Party in London on November 5 as part of her official itinerary during her state visit to the United Kingdom.
During the meetings, President Park expressed her gladness to be making a state visit to the country, mentioning that 2013 marks the 130th anniversary of the Korea-U.K. diplomatic relationship. She said that her visit holds great significance as she attended the groundbreaking ceremony earlier that day to mark the construction of Britain's first Korean War (1950-1953) memorial, commemorating the sacrifices of U.K. soldiers who participated in the war.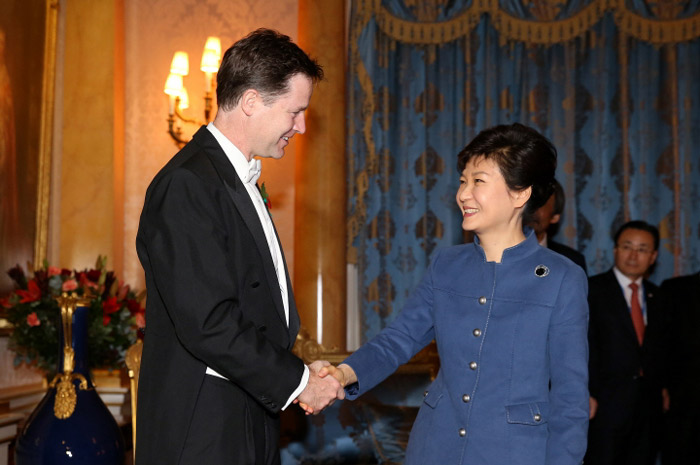 President Park praised the contribution made by former prime ministers Tony Blair and Gordon Brown to the overall development of the United Kingdom by expanding the country's welfare policy and leading discussions on climate change. She expressed her hope that Korea and Britain could expand bilateral cooperation not only in trade, investment, science and technology but also on global issues such as human rights, development, the environment and cyber space, all of which the Labour Party holds as its strengths.
The president praised the leadership of Nick Clegg, head of the Liberal Democrats, who also serves as deputy prime minister, during a meeting with him. She exchanged opinions on issues such as parliamentary reform, tax reduction and reform in state healthcare services, issues on which his coalition government takes the lead. President Park highly valued the mature political culture of forming a coalition of the two parties in order to overcome the current economic crisis in Europe, despite the two parties' political differences concerning the European Union. She expressed her hope that Korea and the United Kingdom could cooperate on issues like climate change and the Global Green Growth Institute (GGGI), an environment-focused international organization.
By Yoon Sojung
Korea.net Staff Writer
arete@korea.kr