President Park Geun-hye attended the groundbreaking ceremony for Britain's first Korean War (1950-1953) memorial and laid a wreath at the Tomb of the Unknown Soldier on November 5 during her three-day state visit to Britain.In attendance were British war veterans, President Mike Swindells of the British Korean Veterans Association, the Duke of Cambridge Prince William, the Duke of Gloucester Prince Richard, Parliamentary Under-Secretary of State John Astor of the British Defense Ministry, Minister of State for the Foreign Office Hugo Swire and Sir David Brewer, Her Majesty's representative in Greater London.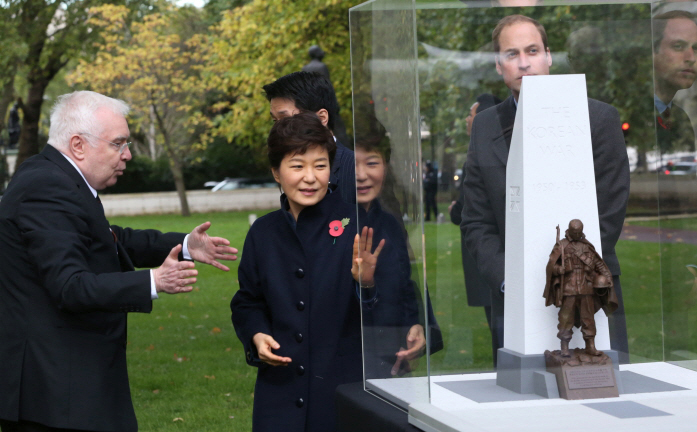 At the ceremony held to mark the 60th anniversary of the Korean War armistice, President Park expressed her sincere thanks on behalf of her people to the British war veterans for their noble sacrifice and dedication they had shown to pursue democracy and peace in Korea.
Mentioning that Britain had sent more than 56,000 soldiers to fight in the Korean War, more than 1,000 of whom sacrificed their lives, the Korean president welcomed that after all these years ground is finally being broken in London to erect the first monument in tribute to the fallen heroes. She said that now is the right time as this year marks both the 130th year of the establishment of diplomatic relations between the two countries and the 60th year of the armistice.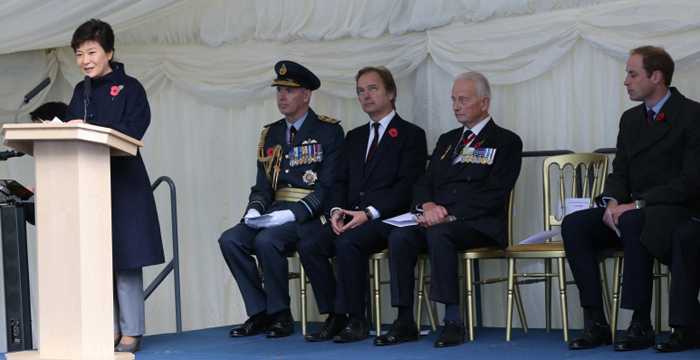 She also said that this monument will symbolize the special bonds and the further development of the relationship between the two nations, thanking the British Monarchy and government for their keen interest in and support for the new monument.
After the ceremony, President Park laid a wreath at the Tomb of the Unknown Soldier dedicated to the fallen British soldiers of the First World War (1914-1918).
---