Zambian President Kenneth Kaunda (1964-91) heading an international anti-apartheid meeting in Kitwe in July 1967
The difficult past of Zambia's ambiguous role in Namibia's and Angola's freedom fight is haunting current President, thus Foreign Minister, Rupiah Banda. The 1970s anti-communist Zambian regime is said to have killed Namibian freedom fighters in agreement with apartheid South Africa and Sam Nujoma. Historians confirm the allegations. "There is no such a thing and the allegations are totally false," President Banda responded to the allegations from Namibia's National Society for Human Rights (NSHR), that he and former President Kenneth Kaunda had entered into a détente with South Africa and Henry Kissinger's USA, leading to the disappearance of Namibian fighters.
"And you know my conscience will not allow me to be a leader even here if I was involved in any disappearance of anybody anywhere in the world. I will not be President of this country and I will be prepared to resign even today. There was no such a thing," President Banda insisted.
What are the accusations that make a Zambian President offer his resignation if found true? They are explosive enough to cast a dark shadow over Zambia's and Namibia's history and their current leaderships. And historians speaking to afrol News confirm there is much truth to the allegations.
NSHR Director Phil ya Nangoloh started the debate in anticipation of President Banda's official visit to Namibia, demanding an explanation for what happened to dozens of SWAPO freedom fighters that disappeared in Zambia during a 1976 purge against the left wing of the freedom movement, which is now Namibia's ruling party.
Himself a SWAPO fighter in those days, the outspoken human rights activist outlines how SWAPO leader Sam Nujoma – Namibia's first President – and Zambian President Kaunda together with his FM Banda plotted to disarm SWAPO fighters then based in Zambia who were in opposition to Mr Nujoma's anti-communist stance.
According to Mr Nangoloh, an anti-communist détente between the US, apartheid South Africa and Zambia was in the making in 1974. The alliance was to stop the advance of Marxist movements in the region; in particular Angola's MPLA and partly Mozambique's Frelimo, but also Zimbabwe's ZANU led by Robert Mugabe and Zambia-based factions of SWAPO, both seen as radical and pro-communist.
As part of this détente, "SWAPO's armed wing, the People's Liberation Army of Namibia (PLAN) – like Zimbabwe African National Union (ZANU) forces in Rhodesia – had to be disarmed and be barred from using Zambia as a springboard to attack South African forces in Namibia's Caprivi Strip," Mr Nangoloh says.
During September 1975, Zambia formally ordered PLAN fighters to cease all military activities on Zambian soil. In April 1976, Namibia's PLAN fighters in south-western Zambia were "violently disarmed by Zambian troops," he adds.
Mr Nangoloh claims PLAN fighters in Zambia were thereafter taken to "the notorious Mboroma concentration camp near Kabwe" in Zambia, where several were killed. At a later location, the Nyango camp, between 40 and 60 "radical" or "rebel" PLAN commanders "started disappearing without a trace individually and or in small groups," he further claims.
The majority of PLAN fighters however were later sent for "rehabilitation" to Mr Nujoma's new main basis in Angola. Also here, many "disappeared" or were killed at Mr Nujoma's orders.
Mr Nangoloh's allegations have spurred strong reactions in Zambia, not only from President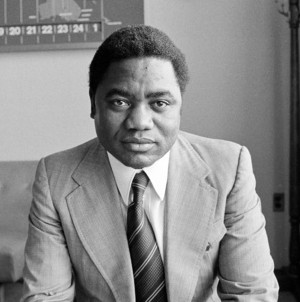 Rupiah Bwezani Banda, later President of Zambia, at UN headquarters in New York in 1974
© M Faust/UN Photo/afrol News
Banda. According to official history writing in Zambia, the front line nation plaid an important role in the independence struggle of Southern Africa. Zambia hosted a large number of freedom movements, was a safe haven for oppressed neighbours and showed great hospitality at a great political and economic price.
This "official history" of Zambia undoubtedly is true, and Zambians can for the most take pride in their nation's important part in Southern Africa's liberation history.
But also Mr Nangoloh's accounts are mostly to be believed, historians hold. They are parallel truths driven by a very difficult situation for Zambia in the 1970s, which however has been poorly documented and described so far.
Indications of President Kaunda's double play can be found in standard history textbooks, such as Oliver and Atmore's trendsetting "Africa since 1800". Here, both Zambia's key role as a front line state hosting foreign freedom movements and President Kaunda's "bizarre meeting" with South African Prime Minister John Vorster in a train coach straddling the Zambian-Rhodesian border in August 1975 are described.
Also, President Kaunda's tense relations with Mr Mugabe's ZANU and Angola's MPLA are well documented and referred to in common textbooks. ZANU fighters were arrested in Zambia, having to evacuate to Mozambique and Tanzania. Mr Mugabe in a 1976 interview even called the Zambian government "an enemy of our revolution." President Kaunda only had a relaxed relation to the South African communists (SACP), who formed the core of the ANC's armed wing Umkhonto we Sizwe.
But the depth of President Kaunda's involvement in fighting freedom movements he deemed Marxist or pro-communist have only been poorly studied. This also includes Zambia's role in the Namibian freedom struggle and SWAPO leader Nujoma's role in the regional play.
As Cape Town history professor emeritus Christopher Saunders writes in a 2007 essay, there are "worrying trends" in current Namibian history writing concerning "patriotic history" as supported by the ruling SWAPO.
The rather well documented executions of dissident SWAPO members at Mr Nujoma's orders lately have only been brought up by Mr Nangoloh and his NSHR in Namibia. Books on the issue by Mr and Ms Beukes (1986) and Ben Motinga (1989) were published in Namibia shortly before independence in 1990, but not after.
All other accounts have come from exiled Namibians or foreign historians. Siegfried Groth, a German pastor who had worked closely with SWAPO, in 1995 published his critical book "Namibia: The wall of silence". "When Groth's book appeared, the Namibian President, Sam Nujoma, appeared on state television to warn the nation against Groth's 'false history'," professor Saunders notes.
Paul Trewhela, a former South African political prisoner and exile, is among those having dug most deeply into these aspects of the Southern African liberation struggle. Mr Trewhela in a longer interview told afrol News that Mr Nangoloh's accounts are "at least generally correct." President Banda was "wilfully and knowingly not telling the truth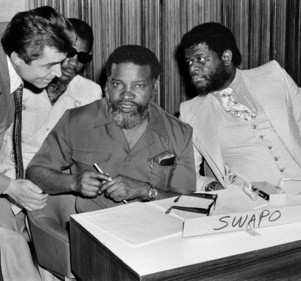 SWAPO leader Sam Nujoma (seated left) and Theo-Ben Guribab (right) at a meeting in Lagos, Nigeria, in August 1977
© J Riedel/UN Photo/afrol News
. This has been the case with the SWAPO government throughout too," he added.
"In the decades following independence, Zambia was in a very difficult situation," Mr Trewhela however defends the Kaunda government. Zambia, as a landlocked country at the time had hostile white minority governments to its west, south and east, including Portuguese-ruled Angola and Mozambique, apartheid states South Africa and Rhodesia and South African-occupied South West Africa (Namibia).
Zambia's economic routes to the coast were very vulnerable. "In the mid-1970s, President Kaunda was also very suspicious of Soviet interests in Africa," Mr Trewhela confirms. There was an enormous pressure placed on Zambia by Western and South African interests to resist Soviet penetration, in Angola in particular, once the Portuguese colonial empire collapsed in 1974.
"This took the form of requiring, and securing, Zambian state participation in measures to prevent the Marxist MPLA from gaining control of Angola following the departure of the Portuguese forces. The Zambian state in turn required, and secured, collaboration in this from the SWAPO leadership, then based in Zambia," Mr Trewhela explains.
Several international, non-Namibian historians confirm this. The Canadian historian Lauren Dobell writes in a 1995 book that "SWAPO had been a minor but captive player" in the Kissinger detente strategy of the mid-1970s. Also heavyweight historians Stephen Ellis and Tsepo Sechaba in a 1992 book say SWAPO had "compromised dangerously with the Vorster-Kaunda-Kissinger plan to invade Angola" in order to get President Kaunda's support to move headquarters from Tanzania to Zambia.
Zambia and SWAPO thus initially sided with pro-Western UNITA in the Angolan civil war. At one moment, "units of the SWAPO military were ordered into battle in Angola on the same side as UNITA and the South African army, against the MPLA and its Cuban allies," Mr Trewhela says, around the same time as SWAPO was fighting the South African army in Namibia.
Mr Nujoma's anti-communism move "in turn provoked rebellion from SWAPO troops and the SWAPO Youth League, which was suppressed by force by the Zambian state and by SWAPO leaders," Mr Trewhela adds. But, all of this was "subsequently denied when both the Zambian state and the SWAPO leaders adapted to the victory of the MPLA in Angola, brought about by the defeat of the South African Defence Force by Cuban troops and weapons."
Only after this victory did SWAPO move to Angola, after the ANC's Oliver Tambo had managed to persuade the MPLA to forgive Mr Nujoma. At first, "the Angolans were angry over SWAPO's manoeuvres against the MPLA, and were unwilling to grant the organisation bases in Angola," historians Ellis and Sechaba write. After ANC persuasion, "SWAPO was duly granted bases in Angola, and in course of time it adopted Marxist rhetoric in line with that of its hosts."
But meanwhile, Mr Nujoma and President Kaunda still were facing rebellious fighters and critical SWAPO cadres in Zambia. Historian Susan Brown writes that, in September 1975, "the Zambian government ord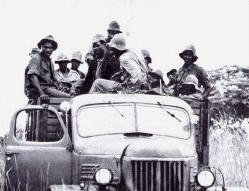 Namibian SWAPO fighters in the 1970s on a truck seized from South African troops
© Unknown
ered SWAPO to cease all military activities from Zambian soil. SWAPO was also ordered to vacate its farm outside Lusaka, where about 500 people were based, by the end of September. SWAPO sources were reported as claiming that Zambia had, in addition, intercepted all arms supplies to SWAPO."
In 1975, the purges started. Historian Lauren Dobell writes: "In the early hours of 21 April 1976, the Zambian army and police arrested 27 SWAPO members in Lusaka, of whom eleven … considered to be leading the rebellion, were singled out and taken to Nampundwe Camp, where they were detained for two months before being transferred to prisons in Tanzania. Between 1,600 and 2,000 dissident fighters were also rounded up in the Western Province and taken to Mboroma Camp, near Kabwe."
Pastor Groth, who spoke to many of those detained in Mboroma, says most fighters were given an option to rejoin SWAPO, now based in Angola: "The majority of these prisoners came to the tough decision to return to SWAPO. Some 600 out of this group were taken from Mboroma to a re-education process at the SWAPO farm in Nyango; others to Angola. Little is known about the destiny of the returnees."
Mr Trewhela holds that "the disarming of PLAN fighters by the Zambian army in 1976 has been abundantly confirmed. The lack of adequate accounting for missing former PLAN fighters arrested in Zambia at this time is also confirmed."
He adds that the SWAPO purges of the 1970s were mainly in Zambia. "Its purges of the 1980s then took place at its subsequent bases in southern Angola, where a Marxist one-party state assured much greater scope than in Zambia for the Nujoma leadership to murder and imprison SWAPO members at will."
While the disappearance of SWAPO fighters in Zambian and Angolan exile is little discussed in Namibia, non-SWAPO historians mostly agree that many Namibians – probably hundreds – died at the hands of their own leadership during the freedom struggle. There also seems to be agreement that several SWAPO – but also ZANU and MPLA – fighters were killed by Zambian authorities or troops.
Mr Trewhela told afrol News he basically agrees with the accounts of Mr Nangoloh, only disagreeing with some details. "Probably nobody has been more dogged and courageous in pursuit of the truth in the region than Phil ya Nangoloh, who has been threatened on many occasions," says the South African specialist writer.
"In general, though, my belief is that Zambia does have a case to answer concerning the welfare and lives of Namibian nationals held as prisoners under its own state authority in the mid-1970s, and that the full history of the Detente scenario in Southern Africa should be brought to light," Mr Trewhela concludes.
"Clarification of the reality of this period in the history of Southern Africa from 35 years ago is an urgent necessity for the region as a whole, above all for Namibia, where there has been no Truth and Reconciliation Commission. It would be a huge step if the truth about as many instances as possible could be quietly and comprehensively established, without fear or favour," he adds.